"Alexander McQueen was best known for his astonishing and extravagant runway presentations, which were given dramatic scenarios and narrative structures that suggested avant-garde installation and performance art. His fashions were an outlet for his emotions, an expression of the deepest, often darkest, aspects of his imagination. He was a true romantic in the Byronic sense of the word
–
he channelled the sublime."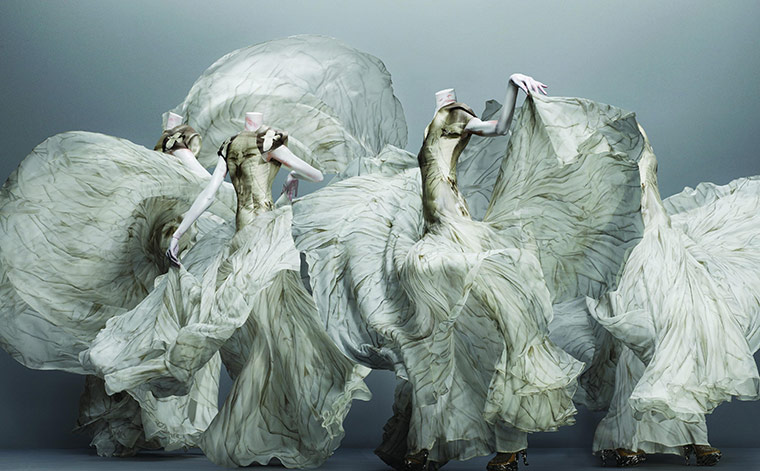 In collaboration with next month's "Savage Beauty" exhibition at the metropolitan museum, we are greeted with a, 240 page, anticipatory catalogue in honorary retrospect of McQueens credible and prolific contribution to the world of design.
Creatively envisaged by photographer Solve Sundsbo, the images are vacuous and bleak, projecting a vacant esteem of haunting stillness. Amongst the pristine, white, humble serenity, emerges a struggling duality identified beneath a layer of startling placidity, devilishly toying with the preserved, provocative aptitude of the late Alexander Lee McQueen. Perhaps most unnerving, however, remains the fact that photographed models were chillingly edited in post production to embody the daunting hush of lifeless, inanimate and partially defected mannequins; this is, indeed,
Savage Beauty.
Eerily intruding the illusory images are harrowing quotations and memorable quips from the designer himself; executing one, last inhaling breath of revival, if only for a second.
"
There is no way back for me now. I am going to take you on journeys you've never dreamed were possible."
The catalogue not only captures, but forcefully ensnares McQueen's influence beyond the constraints of human mortality. In the most sinister yet divine manner, we are grazed by the designer's perversely challenging, but nonetheless, empowering concepts that poetically entwined technological advances with fashion design innovation.
It seems that, even after death, McQueen ethereally threads fashion's eternity.